Hanne Mertens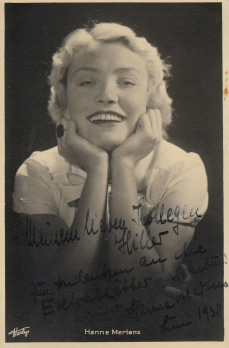 Foto: Gregory Harlip ? - 1945

1909 - 1945
.
.
TThe actress Hanne Mertens got an acting education at the "staatliche akademische Schauspielschule" in Berlin which she finished in 1930. It followed first engagements in Berlin, Düsseldorf and Marburg.

She only appeared rarely in front of the camera, the first time for the production "Nur nicht weich werden, Susanne" (34).

Afterwards she took part in the movies "Ich verweigere die Aussage" (39) and "Alarmstufe V" (41).

Hanne Mertens already joined the NSDAP in 1933 but later she became a vehement critic against the National Socialists. She did not hide her antipathy and made even jokes in the public.
This became her fate at the end when a member of the Gestapo was present during such an occasion. He made a report and Hanne Mertens was arrested in February 1945. She was sent to the prison Fuhlsbütter were she mistreated as well.
On the verge of the invasion of the British army many inmates - among them Hanne Mertens - were deported to the KZ Neuengamme and shortly afterwards executed by hanging.