Paula Menari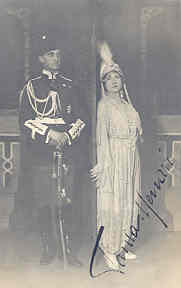 1887 - 1959
.
.
The actress Paula Menari was very successful on German stages, beside it she also appeared in front of the camera now and then.
She made her film debut in 1932 with Franz Seitz's "Wenn dem Esel zu wohl ist" (32) and "Der Schützenkönig" (32).

After a longer interruption followed her next movie with "Fasching" (39) and "Anuschka" (42), directed by Helmut Käutner.

Her cinematical appearances remained seldom after the war. To her last movies belong "Die drei Dorfheiligen" (49) with Joe Stöckel, "Arlette erobert Paris" (53) withJohanna Matz and Karlheinz Böhm and "Jacqueline" (59), directed by Wolfgang Liebeneiner.