Carl Meinhardt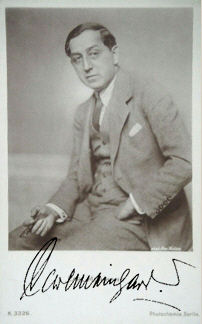 Foto: Mac Walten (1872-1936)
1875 - 1949
.
.
The actor Carl Meinhardt got an acting education in Prague and afterwards he soon became established as a stage actor. His engagements led him to Berlin in 1898 where he appeared on different stages for many years.

His first movie was "Mr. Wu" (19) directed by Lupu Pick with Paul Bildt, Lupu Pick and Manja Tzatschewa. Carl Meinhardt impersonated the title role.
It followed the role of Adolph in "Rausch" (19) directed by Ernst Lubitsch with Alfred Abel, Pola Negri, Asta Nielsen, Rudolf Klein-Rhoden, Sophie Pagay and Frida Richard.

His last silent movie was "Liebe im Rausch" (27) as Fu-Chow with Elga Brink, Stewart Rome, Georg Alexander, Marietta Millner, Jack Trevor and Frida Richard. The movie was directed by Georg Jacoby.

He impersonated few support role in the sound film era of the 30s and to his productions belong "Quick" (32) as Direktor Henkel with Hans Albers, Lilian Harvey, Paul Hörbiger, Paul Westermeier and Käthe Haack, as writer Delius "Goldblondes Mädchen, ich schenk Dir mein Herz" (32) with Charlotte Ander, Felix Bressart, Oskar Sima, Adele Sandrock and Max Ehrlich, Richard Oswald's "Unheimliche Geschichten" (32) as a servant with Paul Wegener, Maria Reisenhöfer, Blandine Ebinger, Eugen Klöpfer and Paul Henckels as well as "Trenck" (32) playing the role of Voltaire with Hans Stüwe, Dorothea Wieck, Olga Tschechowa, Theodor Loos, Paul Hörbiger, Anton Pointner and Eduard von Winterstein.

His career in Germany ended with the rise of the National Socialists. He fled to Prague and was able to work for few years for the Sascha-Messter-Film in Vienna as a member of the board of directors. He soon fled again to Prague where he was arrested. He was deported to Theresienstadt but was able to survive the ghetto.

He left Europe after the war and went to Argentina.

Besides his activity as an actor he also wrote the screenplay "Hochzeitsreise zu dritt" (32).