Lothar Mehnert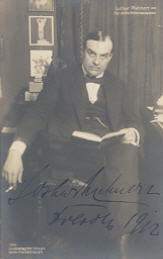 1875 - 1926
.
.
The actor Lothar Mehnert was primarily active as a stage actor and very successful. Because of his impressive performances he was named to the königlich sächsischer Hofschauspieler.

He only appeared seldom in front of the camera, among others in "Der galante König - August der Starke" (20) as a monk at Ria Jende's side and his memorable role as count Johann Oetsch in Friedrich Wilhelm Murnau's "Schloss Vogelöd" (21) with Arnold Korff, Olga Tschechowa and Paul Bildt.
In the movie "Die Rache der Afrikanerin" (22) he acted together with Carl de Vogt and Nora Swinburne.

Lothar Mehnert died in 1926 at the age of 51.