Gustav Maran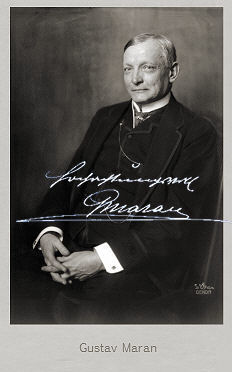 Foto: D'Ora Kallmus (1881-1963)
Mit freundlicher Genehmigung
Österreichische Nationalbibliothek Copyright

1854 - 1917
.
.
The actor Gustav Maran was born as Gustav Dolezal in Vienna.

He began his professional career as a business man at wholesale, beside it he took first acting lessons by Emilie Door from 1871.

In the same year he got a first minor stage role and he intensified his acting study at the Theaterakademie.

He managed his entry to the theater world in 1873 at the Residenztheater in Vienna, afterwards followed numerous engagements at smaller theaters in Austria. It soon turned out that Gustav Maran was especially convincing on stage in comical roles and he was able to make the audience laugh.

He continued his tour through Austria and played on numerous stages before he joined the Theater in der Josefstadt in 1894 where he remained active till to his death.

Gustav Maran only took part in two movies during his career.
His first movie was "Filmposse" (14). To his co-stars belonged Gisela Werbisek and Paula Lauter.

Two years later followed his last cinematical work with "Dominik, wo ist die Tänzerin" (16). In this production he played again at Gisela Werbisek's side and impersonated the role of the advocate.
In the subsequent year Gustav Maran died at the age of 63.