Lili Marberg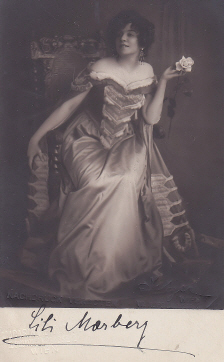 Foto: Franz Xaver Setzer (1886-1939)

1876 - 1962
.
.
The actress Lili Marberg joined an acting education in Dresden and afterwards gained a foothold on stage at the Münchner Schauspielhaus.
To her future theater engagements belong the Deutsches Volkstheater from 1907 and the Burgtheater in Vieanna from 1911. There she remained active for many decades.

Lili Marberg only appeared seldom in front of the camera. Her first movie was "Das Kriegspatenkind" (15) directed by Emil Leyde with Georg Reimers, Franz Höbling, Harry Walden and Poldi Müller.

It followed a long interruption before she appeared again in a movie in the sound film era of the 30s.
In "Silhouetten" (36) she impersonated the role of Mrs. Munk at the side of Poldi Dur, Fred Hennings, Anni Markart, Frauke Lauterbach, Ernst Arnold, Eduard Köck and Karl Skraup. The directors were Walter Reisch and Lotte Reiniger.