Mimi Marlow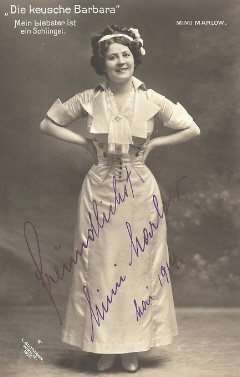 Foto: Ludwig Gutmann (1869-1943)

1880 - 1926
.
.
The actress and operetta singer Mimi Marlow had her greatest successes on stage where she conquered the hearts of the audience with her natural charisma. Her engagements led her among others to Vienna, Dresden, Darmstadt, Prague and Budapest.

In 1913 she took part in her only movie called "Des Schusters Tochter" (13). In this movie she played the role of Alice at the side of Alexander Herrnfeld and Thekla Braun.

When the working situation changed in the 10s and many stage actors were without engagements they looked for other sources of income.
Mimi Marlow joined the actress Else Ruttersheim and they both organised gambling events on a grand scale. Although this was illegal they were active in this field for several years.