Fay Marbé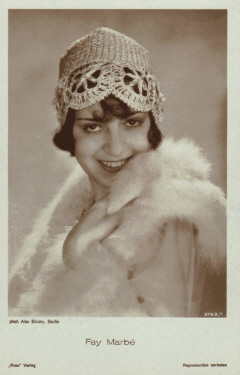 Foto: Alexander Binder (1888-1929)

1899 - 1986
.
.
The actress, singer and dancer Fay Marbé wa especially well-known for her dancing and singing.

She began her stage career in New York where she took part in plays like "The Velvet Lady" (19) and "The Magic Melody" (20).

Finally she went to Hollywood where she continued her stage career. In the same year she also made her film debut in "Her Very Idea" (20). In this movie she impersonated the role of a dancer at the side of Taylor Holmes, Virginia Valli and Betty Ross Clarke. By her own account she also played a dancer in D.W. Griffith's "Orphans of the Storm" (21).

Afterwards she concentrated again to her stage career and in 1926 she went to Europe where she appeared among others at the Daly's Theater in London.
During this time she also took part in few German silent movies, among them "Dorine und der Zufall" (28) where she played the title role. To her co-stars belonged Ernst Verebes, Igo Sym and Hans Thimig.
Despite modest critics she played in some other German movies before she returne d to the USA in 1929. There she was busy as a dancer mainly and she acted a last time in front of the camera. The movie "The Talk of Hollywood" (29) was her only talky at the same time.

Afterwards her career ended both in the film business and on stage. When she failed to become established as a cabaret artist she retired.