Liska Malbran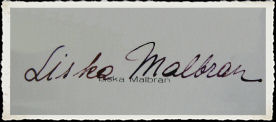 1925 - 1946
.
.
The actress Liska Malbran was born as Marlis Carmen Hoffmann. Her father was the actor and director Werner Malbran (born Hellmut Werner Hoffmann).

When Liska Malbran also became an actress dhe took over he pseudonym of ther father and at the age of 18 she already took part in her first "Altes Herz wird wieder jung" (43) with Emil Jannings, Maria Landrock, Viktor de Kowa and Elisabeth Flickenschildt.

Because of the war she was only able to play in few more movies. To these productions belong "Das war mein Leben" (44) playing Ursula Berner with Carl Raddatz, Hansi Knoteck and Leny Marenbach, as Luise in "Junge Herzen" (44) with Harald Holberg, Ingrid Lutz and Max Gülstorff as well as "Heidesommer" (45) with Eva Maria Meineke, Georg Thomalla and Jakob Tiedtke.

Despite the few movies she took part she was included to the movie star postcard of the than leading Ross Verlag. This underlines that she was regarded as a promising talented young actress after her handfull movies.

But the war avoided a blooming film career. Liska Malbran left Germany and went to Denmark. There she died in Copenhagen on June 6 1946 at the age of only 20 years.