Paul Mahr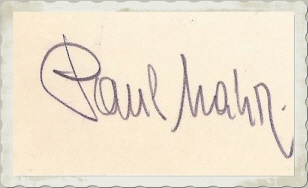 1885 - ?
.
.
The actor Paul Mahr already joined the film business in 1914 with "Filmposse" (14).

In the next years he took part in few more silent movies like "Das Gleichgewicht" (17), "Der Leibeigene" (19), "Die neuen Reichen" (20) and "Klein Bobby auf der Fährte" (21).

After a longer interruption he made his sound film debut with "Purpur und Waschblau" (31), afterwards it lasted nearly twenty years before he appeared in his last movie "Küssen ist keine Sünd" (50).