Ralf Ludwig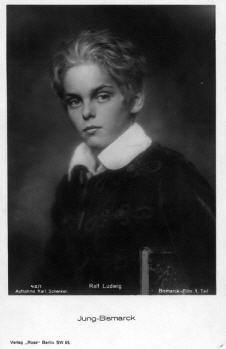 Lichtbild aus "Bismarck" 1925 (links)

? - ?
.
.
The child actor Ralf Ludwig (also credited as Ralph Ludwig) took part in few silent movies of the 20s.

His first appearance in front of the camera was for "Bismarck, 1. Teil" (25). He impersonated the role of the young Otto von Bismarck.

Afterwards he played the role of Peter Hewer in Gerhard Lamprecht's movie "Die Unehelichen" (26) with Bernhard Goetzke, Margarete Kupfer, Max Maximilian, Paul Bildt, Käthe Haack and Hugo Flink.

One year later followed his last cinematical work. It was a sequel of his first movie and he impersonated again the young Otto von Bismarck in "Bismarck 1862-1898" (27).

In both movies the actor Franz Ludwig played the role of the old Bismarck. It is a obvious presumption that the child actor Ralf Ludwig could be the son of Franz Ludwig.