Rolf Lindau-Schulz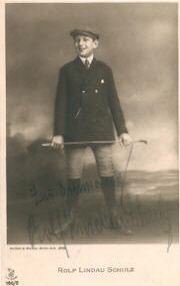 Foto: Becker & Maass (Atelier 1902-1938)

1904 - 1969
.
.
The actor Rolf Lindau-Schulz was a well-known child actor of the early 20s.

He already made his film debut in 1917 with "Spitzenchristel" (17), it followed "Ein rätselhafter Blick" and "In Vertretung" (18) and finally his own movie serial with "Rolf kann alles" (18), "Wie Rolf, das Pflänzchen, verhilft der Schwester zum Myrthenkränzchen" (18), "Rolf der Meisterdetektiv/Rolf der Meisterdieb" (19), "Schuhputzsalon Rolf GmbH" (19), "Rolfs Ferienreise" (19), "Rolf als Mädchen für alles" (19), "Rolf gewinnt den grossen Preis" (19), "Rolf inkognito" (20) and "Rolf der Vierzehnte" (20).

He continued his film career at the beginning of the 20s with productions like "Warum bin ich der Verlobte meiner Tochter" (21), "Firnenrausch" (21) and "Das Spielzeug einer Dirne" (22).