Amanda Lindner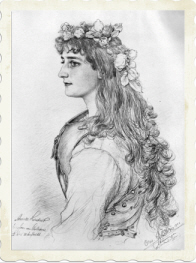 Foto: Christian Wilhelm Allers (1857-1915)

1868 - 1951
.
.


The actress Amanda Lindner began theater career in the 1880s and she came via Coburg to Meiningen where she was active at the Hoftheater for ten years. Afterwards followed a long lasting engagement at the Königliches Schauspielhaus in Berlin. She was also successfully at the Deutsches Theater.

Amanda Lindner already took part in her first movie in 1919 with "Eine unbedeutende Frau" (19) but it remained her only silent movie.
She only continued her film career in the 30s and she acted in several productions in the next years. To these movies belong "Ich bei Tag und du bei Nacht" (32), "Der Rebell" (32), "Welle 4711" (33), "Das Lied vom Glück" (33), "Fürst Woronzeff" (34) and "Familienparade" (36).

Her last cinematical works came in 1940 into being with "Rosen in Tiro" (40) and "Bal paré" (40).