Trude Lieske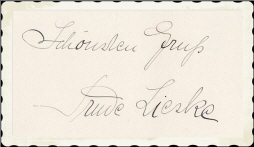 1899 - 1993
.
.
The actress and singer Trude Lieske was well-known as a singer primarily, beside it she also took part in few movies.

She already came to a decision to become an opera singer in 1915 and after a singing education she made her stage debut at the Theater am Sophienplatz in Kiel in 1919.
In the next years followed numerous engagements in different cities before she gained a foothold in Berlin from 1923. There she appeared among others at the Lessingtheater, at the Neues Theater am Zoo Berlin, at the Grosses Schauspielhaus and at the Berliner Theater.

Thank to her popularity she got first movie roles offered at the end of the 20s, among them the silent movies "Casanova" (28), "Liebfraumilch" (29) and "Asphalt" (29).

It followed few more appearances in front of the camera in the sound film era of the 30s. There she was also able to use her singing voice for the big screen.
To her last cinematical works belong "Komm' zu mir zum Rendezvous" (30), "Terra Melophon Magazin Nr. 1: Vom guten Benehmen" (30), "Zwei Krawatten" (30), "Der Herr auf Bestellung" (30) and "Ich bei Tag und du bei Nacht" (32).

When Austria was annexed bei the Third Reich in 1938 Trude Lieske left Europe together with her husband, the librettist Armin Lackenbach Robinson, and they went to the USA. They only returned to Europa after World War II but she did not continue her artistic career.