Eva Liebenberg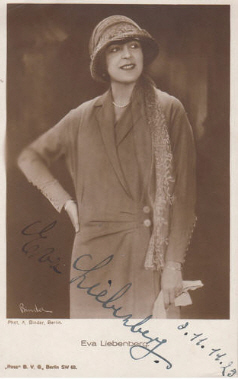 Foto: Alexander Binder (1888-1929)
1890 - 1971
.
.
The singer and actress Eva Liebenberg was born as Gertrud Lina Hedwig Liebenberg in Stettin.

After singing lessons by Hugo Rasch she began her artistic career at the Thalia-Theater in Berlin where she appeared from 1920. In the next years followed other performances at different stages and she went on several tours through Europe.

Finally she made a name for herself as an opera singer too and she appeared at important operas regularly, among them the Bayreuther festivals the State Operas in Berlin and Dresden as well as at the State Opera in Cologne.
Her greatest successes came into being with her performances in operas by Richard Wagner.

Her career was disrupted in the 30s because as a Jew she was no longer able to work in Germany. It followed the emigration to Holland where she successfully eluded from the intervention by the Gestapo till the end of war.

Thank to her popularity as a singer she also was engaged for few movies.
Her first movie was "Tausend und eine Frau" (18) with Erich Kaiser-Titz, Ernst Hofmann, Lucie Kieselhausen and Harry Lamberts-Paulsen. In this movie she played the singer Rita Marloff.

Her last cinematical appearance followed in 1925 with "Wege zu Kraft und Schönheit" (25) - a production who places the moderne physical culture at the center.

After her active career on stage Eva Liebenberg worked as a singing teacher.