Maria Ley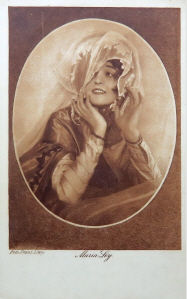 Foto: Franz Löwy (1883-1949)

1898 - 1999
.
.
The actress and dancer Maria Ley was born as Friederike Flora Czada in Vienna.
Her father Edmund von Czada was town master mason, her mother Frederike Brunswick de Corrompa was a pianist.

Maria Ley also chose an artistic career and she took dancing lessons. It followed engagements in Vienna, Paris, Berlin and the USA.

She also worked for Max Reinhardt in the middle of the 20s where she was successful on the stages.

At the beginning of the 20s she impersonated few roles in movies, among them "Gefesselt" (20), "Prinz und Tänzerin" (20), "Herzen im Sturm" (21), "Narren der Liebe" (21) and "Die trennende Brücke" (22).

She emigrated to the USA at the end of the 30s where she was able to work as a professer at the New School for Social Research in New York.
With her third husband, the director Erwin Piscator, they established the "Dramatic Workshop" an the New School with famous course participants like Walter Matthau, Marlon Brando, Harry Belafonte, Tony Randall and Tony Curtis.

Besides her activity as an actress and dancer she published novels, poems and she wrote theater plays.