Olga Lewinsky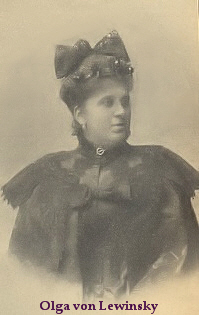 Foto: Rudolf Krziwanek (?-1905)

1853 - 1935
.
.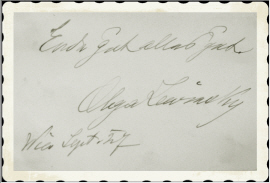 The actress Olga Lewinsky was born asOlga Precheisen in Graz.
Because her parents did not support her wish to become an actress because they wanted that she will take over a "serious" profession, the young Olga Lewinky run away from her family at the age of 16 and followe her dream herself.
It didn't last long and she got a first engagement at the Schauspielhaus in Graz in 1869, it followed smaller roles on other stages. Finally she found a patron with the actress Josefine Gallmeyer who recommended her to important theater directors. In 1871 she made her stage debut at the Viennese Hoftheater where she soon got positive critics and a benevolent audience.

When she got married with the acor Joseph Lewinsky in 1873 she used her new name for her appearances at the theater.

In the next years Olga Lewinsky became established at several important theaters and she appeared among others at the Deutsches Theater in Prague, at the Hoftheater Kassel, at the Alten Theater in Leipzig and finally again at the Hoftheater in Vienna.

After the turn of the century she retired from the theater step by step and took over new roles only sporadically. Therefore she had the time to play roles in few silent movies of the 20s.

She played the role of mother of the duke in "Die Tragödie eines verschollenen Fürstensohnes/Eine versunkene Welt" (22) directed by Alexander Korda with Max Devrient, Paul Lukas and Ernst Arndt and took part in "Napoleon in Schönbrunn" (22) with Olaf Fjord and Annemarie Steinsieck.

Her last appearance in front of the camera came in 1925 into being with "Der Fluch" (25) with Lilian Harvey, Oscar Beregi, Ferdinand Bonn, Albert Heine and Anton Pointner. In this movie she impersonated a midwife.