Lori Leux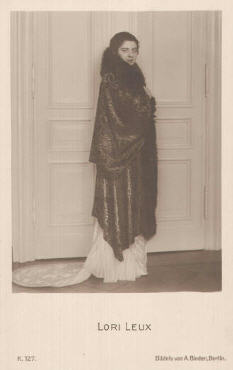 Foto: Alexander Binder (1888-1929)

1893 - 1964
.
.
The actress Lori Leux was born as Auguste Margareta Eleonore Dietrich in Berlin.

She grew up in a family where art was an important part. Her father was a sculptor, her mother was an opera singer and her sister Elli Leux - she already died in 1929 at the age 31 - was a singer too.

She begann her career as singer too in 1914 on different stages in Berlin before she entered the film business in the same year with "Eine Frau auf Pump gesucht" (14).

In the next years she became other roles in "Mexikanische Wirren" (16), "Das Tagebuch des Apothekers Warren" (18), "Aus dem Leben einer Schulreiterin" (18), "Die rote Herzogin" (19) and "Die schwarze Loge" (19).

She continued her silent movie career till 1925 and she took part in "Der Mann ohne Namen" (21) - a popular cinema serial, "Die Schmetterlingsschlacht" (24) and "Ein Sommernachtstraum" (25).

Afterwards she retired from the film business and dedicated to the theater exclusively. She appeared both as a singer and actress on different stages.

Only in the 50s she returned to the screen and Lori Leux impersonated support roltes in "Die sieben Kleider der Katrin" (54), "Hotel Adlon" (55), "Der erste Frühlingstag" (56), "Mein Vater, der Schauspieler" (56), "Das einfache Mädchen" (57) and "...und abends in die Scala" (58).

Besides her activitiy as a performing artist she was also engaged in racehorses and she owned her own racing stable.