Madge Lessing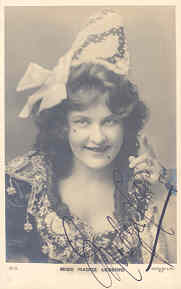 1873 - 1966
.
.
The actress Madge Lessing was born as Margaret O'Donnell in London. She was able to celebrated many successes as a stage actress at the end of the 19th century in the USA.

She went to London in 1930 where she continued her successful stage career. Six years later she appeared regularly on stages in Berlin and she became a star in Germany too. Finally she was spotted by the movie director Max Mack.

Her film career, which she began in 1913, concentrated exclusivey in Germany. Her first movie was "Wo ist Coletti?" (13), it followed the movie "Die blaue Maus" (13).
She appeared only in few more movies in the next years, among them "Die Welt ohne Männer" (13), "Die blaue Maus, 2. Teil" (15) and "Fritzis toller Einfall" (16). The director of all her movies was always the outstanding Max Mack.

With the outbreak of World War I she returned to the USA. Only in 1916 she came back to Germany to act in her last movies. Shortly afterwards she went to England and later to the USA. There she was not able to continue her former successes.

Madge Lessing was married with the stage manager George B. McLellan.