Lotte Lenya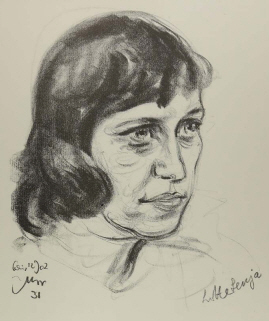 Zeichnung: Emil Stumpp (1886-1941)
1898 - 1981
.
.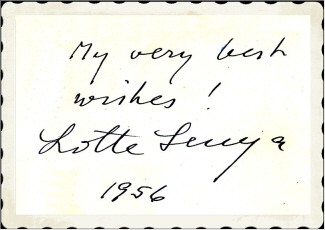 The actress and singer Lotte Lenya was born as Karoline Wilhelmine Charlotte Blamauer in Vienna.
She got the first artistic education as a ballet dancer in Zurich before she dedicated to the acting as well. She made her stage debut in Zurich too and she remained active there till 1921.
Afterwards she went to Berlin where she used the name Lotte Lenya. She appeared as a singer and actress in the next years. After few years with modest success she managed her breakthrougn with the world premiere of "Die Dreigroschenoper" where she impersonated the role of Jenny.
The huge success led toa filming in 1931 also called "Die 3 Groschen-Oper" (31) and in this movie Lotte Lenya played the role of Jenny again. This movie became popular as well.

Despite this movie hit Lotte Lenya concentrated to the stage again exclusively.

Lotte Lenya got married with the composer Kurt Weill in 1926. When her husband went to Paris after the rise of the National Socialists their marriage ended. But she returned to Kurt Weill in 1935 and they both emigrated via England to the USA where they got married again.

Lotte Lenya was able to continue her stage career in the USA and from the 50s she appeared in Germany again.

She made her comeback in the film business in 1961 and she acted in productions like "The Roman Spring of Mrs. Stone" (61), the James Bond movie "From Russia with Love" (63) - an appearance which made her famous around the world - "Mutter Courage und ihre Kinder" (65), "Then Blocks on the Camino Real" (66), "The Appointment" (69), an episode of the serial "DBS Daytime 90: Trio for Lovers" (74) and "Semi-Tough" (77).