Magda Lena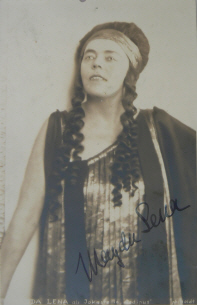 Foto: Hanns Holdt (1887-1944)

1883 - 1940
.
.
The actress Magda Lena was born as Magdalena von Perfall. Her father was the author Anton von Perfall.

She went to the theater, among others she was engaged at the Residenztheater Munich.

Magda Lena also took part in few movies of the 30s, among them "S.A.-Mann Brand" (33), "Der Tunnel" (33), "Die vertauschte Braut" (34), "Der Schlafwagenkontrolleur" (34), "Peer Gynt" (34), "Der Klosterjäger" (36) and "Fahrendes Volk".

Beside her activity as an actress she also managed an acting school. To her well-known students belong the later actors Peter Pasetti and Hans Baur.