Günther Langenbeck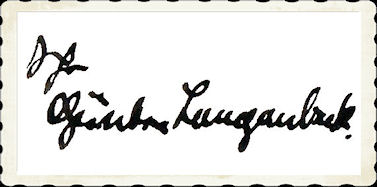 1905 - ?
.
.
The actor Günther Langenbeck was only involved in few film productions where he impersonated supporting roles.

His first film appearance came with "Wenn die Musik nicht wär/Das Lied der Liebe" (35) with Paul Hörbiger, Willi Schaeffers, Ida Wüst, Karin Hardt, Sybille Schmitz, Harry Hardt, Luis Rainer and Josefine Dora.

It followed the production "Daphne und der Diplomat" (37) directed by Robert A. Stemmle at Karin Hardt's side, Gerda Maurus, Hans Nielsen, Karl Schönböck, Elsa Wagner, Erich Ziegel, Paul Dahlke and Ingeborg von Kusserow.

His last cinematic work was "Der Fuchs von Glenarvon" (40) with Olga Tschechowa, Karl Ludwig Diehl, Ferdinand Marian, Elisabeth Flickenschildt, Traudl Stark, Albert Florath, Lucie Höflich, Hans Mierendorff, Hans Richter and Horst Birr.