Tilly Kutschera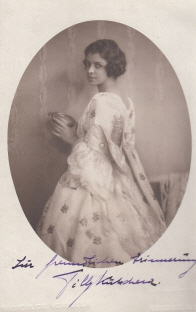 Foto: Franz Xaver Setzer (1886-1939)

1890 - 1920
.
.
The actress Mathilde Kutschera was born as the daughter of the famous actor Viktor Kutschera.
It is no wonder that Tilly Kutschera entered the profession of an actress too and she already joined the Deutsches Volkstheater at the age of 17. One year later she got his first engagement at the Burgtheater where she remained active till to her premature death.

Like her father Tilly Kutschera also gained a foothold in the film business but her appearances in front of the camera remained seldom.
For the director Georg Jacoby she took part in "Bogdan Stimoff" (16) at the side of Georg Reimers, Carl Goetz and Lotte Medelsky and two years later followed the production "Der letzte Erbe von Lassa" (18) directed by Conrad Wiene. To her film partners also belong her father Viktor Kutschera.

Tilly Kutschera committed suicide before she reached the age of 30.