Selma Kurz-Halban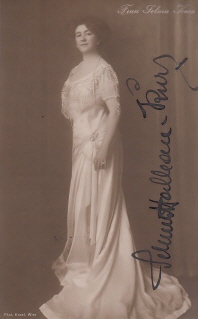 Foto: Hermann Clemens Kosel (1867-1945)
1874 - 1933
.
.
The singer and actress Selma Kurz-Halban already appeared as a singer at a young age and she made first experiences as a chorister.
After a singing study by Johannes Ress in Vienna and Mathilde Marchesi in Paris she began her professional career as a singer in Hamburg in 1895.

She soon was regularly engaged as an opera singer and she appeared at operas in Frankfurt and Vienna. No less than the composer Gustav Mahler engaged her at the Hofopera in Vienna in 1899 where she remained active for several decades.

Besides her performances at operas Selma Kurz-Halban also impersonated roles in numerous operettas and she went on several tours through Europe.

Because of her popularity as a singer she appeared in two movies. Her first one was the opera recording of "La Traviata" (09) and her second movie was "Johann Strauss an der schönen blauen Donau" (13) directed by and with Karl Zeska, Hansi Niese, Mizzi Günther and Louise Kartousch.