Elsa Krüger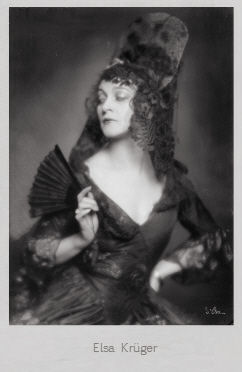 Foto: D'Ora Kallmus (1881-1963)
Mit freundlicher Genehmigung
Österreichische Nationalbibliothek Copyright

? - evtl. 1941
.
.
The actress Elsa Krüger began her cinematical career which was limited to few movies, with the Russian movie "Nemye svideteli" (14) in which she played the role of Yelena.

Afterwards she concentrated to her stage career and she became the "Queen of Tango" in Moscow.

After the revolution she left Russia and came via Odessa to Berlin. There she opened the Russian Romantic Ballet Theater..
Only in 1927 followed her next movie with "Die Villa im Tiergarten" (27) with Hans Albers, Joe Stöckel and Aud Egede-Nissen. Here she impersonated the role of baroness Inge von Holten.

Her last movie came in 1934 into being with the production "Grenzfeuer" (34) directed by and with Hanns Beck-Gaden, Rudolf Klein-Rogge and Fritz Rasp zustande. She played in this movie the character Afra.