Lisa Kresse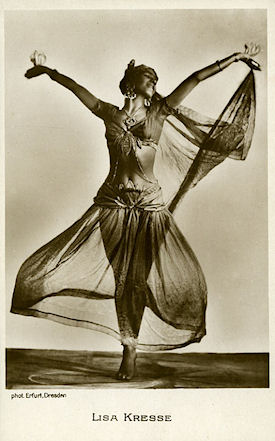 Foto: Hugo Erfurth (1874-1948)

1894 - ?
.
.
The actress and dancer Lisa Kresse was born in Munich as the daughter of the painter Oswald Kresse (1858-1928).
At the age of only 13, Lisa Kresse received acting lessons from Ernst von Possart, and later also from Franz Jacobi. But her great passion was dance and she acquired her skills from Sent M'ahesa, among others.

She made her stage debut as a dancer alongside Valeska Gert at the Munich Kammerspiele in 1916. The following year she played the leading role in "Der König und die Tänzerin" (16) by Lion Feuchtwanger at the same venue.

The writer Lion Feuchtwanger was also an admirer of Lisa Kresse and in 1918 the pamphlet "Lisa Kresse", written by him, was published.

Also in 1916 she appeared in a film for the first time.
She acted in "Der Einäugige" (16) at Carl Auen's, Fritz Greiner's and Nelly Lagarst's side.

After that she played the role of Nyur in Toni Attenberger's "Die Frau auf der Schildkröte" (19) with Eduard von Winterstein, Josef Karma and Karl Markowski.

At the beginning of the 20's she already made her last cinematical works with "Narr und Tod" (20) with Carl Goetz, Dora Kaiser, Hans Lackner and Paul Kronegg, "Das Geheimnis des Buddha" (20) directed by Philipp Lothar Mayring with Adolf Hille and Mara Lynn as well as "Die Flammenfahrt des Pacific-Express" (21) with Henri Peters-Arnolds, Willy Stettner and Anneliese Halbe.

After her film career she concentrated again exclusively on her dancing career. In 1928, a setback followed when she had a serious accident. A carriage horse went through and the drawbar of the carriage severely injured Lisa Kresse in the face - treatments in the hospital followed during two years.

Since performances on stage were no longer possible, she founded a ballet school. But in 1934 she had to close it again, because she was married to a Jewish man. He died a few years later in a concentration camp. She earned her living in a chemical factory, and finally she was drafted into an army apprentice forge.
In the middle of the war she married again, but he died shortly after. When her apartment in Berlin burned down, she was left with nothing.

After the war, the once celebrated artist was forgotten. She kept her head above water with temporary work until an illness finally drove her into poverty. At the end of the 1950s, she lived in a dilapidated wooden hut in Gröbenzell.

Detailed information about Lisa Kresse's career is taken from the essay "Wenn die Kresse tanzt" by Roland Jaeger.