Lisa Kresse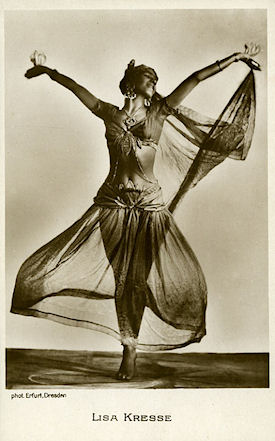 Foto: Hugo Erfurth (1874-1948)

1894 - ?
.
.
The actress and dancer Lisa Kresse already appeared in her first movie in 1916.
She took part in "Der Einäugige" (16) at the side of Carl Auen, Fritz Greiner and Nelly Lagarst.

Afterwards she played the role of Nyur in Toni Attenberger's "Die Frau auf der Schildkröte" (19) with Eduard von Winterstein, Josef Karma and Karl Markowski.

At the beginning of the 20s came already her last cinematical works into being with "Narr und Tod" (20) with Carl Goetz, Dora Kaiser, Hans Lackner and Paul Kronegg, "Das Geheimnis des Buddha" (20) directed by Philipp Lothar Mayring with Adolf Hille and Mara Lynn as well as "Die Flammenfahrt des Pacific-Express" (21) with Henri Peters-Arnolds, Willy Stettner and Anneliese Halbe.