Ellen Korth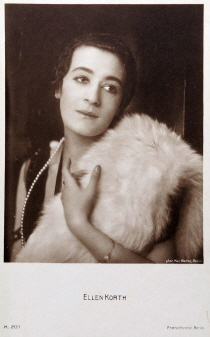 Foto: Mac Walten (1872-1936)
1894 - 1936
.
.
The actress Ellen Korth was born as Ellen Bischoff-Korthaus in November 6, 1894 in Munich. She took part in two movies in 1918, afterwards she concentrated to her stage career again.

In the movie "Othello" (18) directed by Max Mack she impersonated the role of Desdemona at the side of Wilhelm Diegelmann, Julius Falkenstein, Max Gülstorff and Rosa Valetti.


Although for Max Mack she appeared in the production "Wanderratten" (18) with Wilhelm Diegelmann, Max Gülstorff, Rudolf Lettinger and Rosa Valetti.

She got married with the prince Adolf Fürst zu Schaumburg-Lippe in 1920 and she was called afterwards as Elisabeth princess zu Schaumburg-Lippe. The couple died by a airplane crash near the vulcano Popocatepetl with other passengers in 1936.