Robert Koppel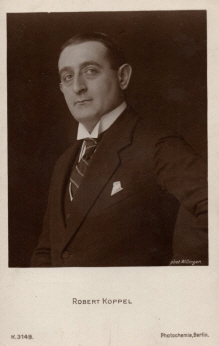 Foto: Wilhelm Willinger (1879-1943)

1874 - 1966
.
.
The singer and actor Robert Koppel was well-known as a singer and cabaret artist in the first place.

He began his career at the Linden-Cabaret in Colmar in 1900, one year leater he appeared at the cabaret "Überbrettl" in Berlin.
A huge success became his duet "Vom lustigen Ehemann" together with Bozena Bradsky.
In the next years followed engagements at cabarets, among others in Munich.
Moreover he was also active for the radio and he published numerous records.

Thank to his popularity he was also engaged for a movie in 1918. He impersonated in the two-part feature "Jettchen Geberts Geschichte" (18) the role of Julius Jakoby aus Bentschen directed by Richard Oswald. To his co-stars belonged Conrad Veidt, Mechthilis Thein, Clementine Plessner, Max Gülstorff, Hugo Döblin and Fritz Richard.

With the rise of the National Socialists ended the career of the Jew Robert Koppel in Germany.
He went via Italy to Nizza and Nancy.

After the war he returned to Germany for a brief time before he settled in Switzerland.