Dora Komar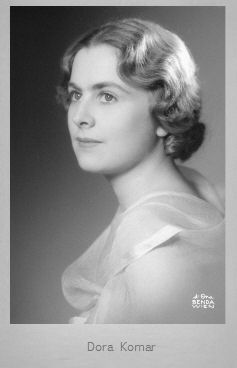 Foto: Arthur Benda (D'Ora) (1885-1969)
Mit freundlicher Genehmigung
Österreichische Nationalbibliothek Copyright

1914 - 2006
.
.
The actress Dora Komar was born as Dorothea Komarek in Vienna. there she joined a ballet school and took singing lessons.
At the age of 20 she was engaged at the Staatsoper where she appeared as a soubrette till the end of World War II.

Because of her huge popularity as a singer she was also engaged for movies. She made her film debut in 1940 at Willi Forst's side with "Operette" (40).
In the next years followed few more movies like "Immer nur Du" (41), "Karneval der Liebe" (43) and "Glück unterwegs" (44).

With her move to Rio de Janeiro together with her husband, the producer Hans Leopold Somborn, ended her career in the spotlight. Only in 1949 came a last movie with her to the cinema which was already shot in 1945 called "Wiener Mädeln" (49).

Only in the middle of the 70's she returned to Europe and lived in Vienna and Lisbon alternately where she died.