Edi Klitsch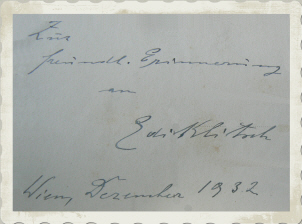 1888 - 1942
.
.
The actor Edi Klitsch was active as a stage actor in the first place. He only appeared sporadically in some movies of the 30s.

His first movie was "Die unentschuldigte Stunde" (37) directed by E.W. Emo with Hans Moser, Anton Edthofer, Dagny Servaes, Theo Lingen, Gusti Wolf, Genia Nikolajewa, Gusti Huber and Tibor von Halmay.

Afterwards he impersonated the role of an user at the polytechnic in E.W. Emo's "Unsterblicher Walzer" (39) at the side of Paul Hörbiger, Dagny Servaes, Maria Andergast, Fried Czepa, Hans Holt and Karl Skraup.

His last cinematical work came with Hubert Marischka's "Das Glück wohnt nebenan" (39) into being with Maria Andergast, Olly Holzmann, Wolf Albach-Retty, Grethe Weiser, Ralph Arthur Roberts, Hilde Hildebrand and Annie Rosar.