Maria Karsten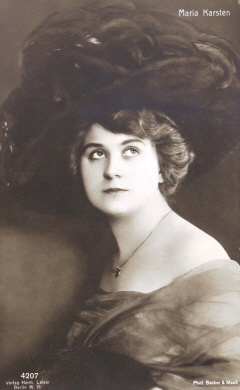 Foto: Becker & Maass (Atelier 1902-1938)
1881 - 1950
.
.
The actress Maria Karsten was active at the theater in the first place. Her engagements led her from Vienna to Frankfurt and Berlin.

She only acted rarely in front of the camera.
Her first movie was "Die Koffer des Herrn O.F." (31) with Alfred Abel, Peter Lorre, Harald Paulsen, Ludwig Stössel, Hedy Lamarr and the premature deceased Ilse Korseck. In this movie she played the role Mrs. Dorn.

Two years later came her last movie into being. She impersonated Mrs. Sundewitt in "Heideschulmeister Uwe Karsten" (33) at the side of Marianne Hoppe, Hans Schlenck, Brigitte Horney, Olga Tschechowa and Carl Auen.