Tamara Karsavina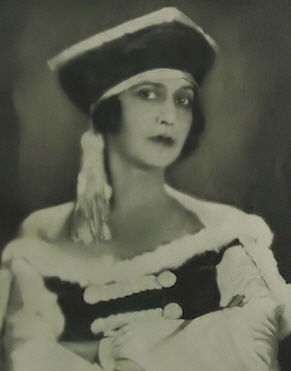 Foto: Alexander Binder (1888-1929)
1885 - 1978
.
.
The dancer and actress Tamara Karsavina became famous as a ballet dancer.

She became a member of the Russian ballet in 1909 and she was very successful with "Petruschka", "Le Spectre de la Rose" and "Der Feuervogel".

Tamara Karsavina and her family left Russia in 1918 after the October Revolution and they went to London.
She teached students a the Royal Ballet, among them the later celebrated Margot Fonteyn.

She also made her film debut in England with "The Old Wives' Tale" (21).

During a stay in Germany she took part in few other silent movies.
To these productions belong "Der Hahn im Korb" (25) directed by Georg Jacoby with Reinhold Schünzel, Elga Brink, Maly Delschaft, Frida Richard, Wilhelm Dieterle and Sig Arno, "Wege zu Kraft und Schönheit" (25) with Anita Berber, Josephine Baker and Leni Riefenstah as well as Gerhard Lamprecht's "Hanseaten" (25) at the side of Fritz Alberti, Aribert Wäscher, Frida Richard, Renate Brausewetter, Werner Pittschau, Paul Bildt and Maria Forescu.