Eduard Kandl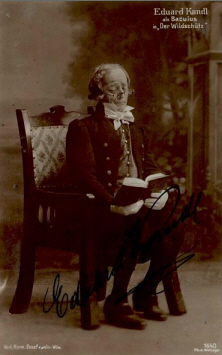 Foto: Wilhelm Willinger (1879-1943)

1876 - 1966
.
.
The actor and opera singer Eduard Kandl had his greatest success on stage where he took part in numerous operas.

Thank to his popularity and his acting abilities he also took part in movies time and again. His first movies was "Martha" (16) with Bernhard Bötel.
It followed another silent movie in 1923 where he appeared in the successful production "I.N.R.I." (23) at the side of stars like Henny Porten, Asta Nielsen, Werner Krauss, Gregori Chmara, Alexander Granach and Theodor Becker. Under the direction of Robert Wiene he impersonated the role of Andreas.

His engagements in front of the camera increased with the rise of the sound film in the 30s where he was also able to apply his singing voice.
He acted in the feature movies "Der junge Baron Neuhaus" (34) and "Prinzessin Turandot" (34) afterwards followed four short movies with "Besuch beim Bettelstudent" (34), "Das Programm" (35), "Kleines Intermezzo" (38) and "Der Dorfbarbier" (39).

Finally his last feature movies came into being with "Maria Ilona" (39) and "Falstaff in Wien" (40). In both movies he played the role of a singer.