Kurt Junker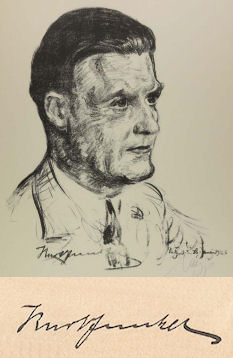 Zeichnung: Emil Stumpp (1886-1941)
1878 - 1953
.
.
The actor Kurt Junker normally worked at the theater and he was only active rarely in movies.
To his stage appearances belong plays at the Hoftheater in Stuttgart where he was active since 1908. Beside it he also realised some plays as a director.

His first engagement in front of the camera came in 1924 into being for "Aus eigener Kraft" (24). In this movie he played the role of the engineer Jungk at the side of Olga Engl, Willy Kaiser-Heyl and Emmy Wyda.

In the role of Friedrich Wilhelm III followed with the production "Prinz Louis Ferdinand" (27) his last silent movie. To his co-stars belonged Christa Tordy, Hans Stüwe, Paul Bildt, Jenny Jugo, Eduard von Winterstein, Heinrich Schroth, Theodor Loos and Max Gülstorff.

With his role as Metternich he appeared in his only sound film in 1935 called "Hundert Tage" (35) with Werner Krauss, Gustaf Gründgens, Eduard von Winterstein, Fritz Genschow, Elsa Wagner, Rose Stradner and Rudolf Schündler.

Kurt Junker was married with the singer Margarethe Burchardt.