Babette Jenssen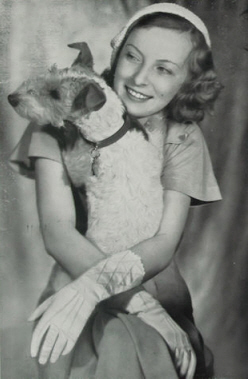 Foto: Alexander Binder (1888-1929)
1909 - ?
.
.
The actress and operetta singer Barbara Dju was mentioned in a magazin article in 1929 and described as a movie actress although only one movie is known today in which she took part.

Under the direction of Emmerich Hanus she acted in the production "Eine Nacht in Yoshiwara" at the side of Alfred Abel, Rudolf Klein-Rogge and Koreya Senda.

She was born in Moscow in 1911 as Alexandra Mirowna or Mironoff. Her family emigrated to Germany in 1920 where she met the sculptor Ernesto de Fiori in 1927 and got married. The marriage lasted till 1932.
Because of her political attitude and her refusal to become a member of the Reichskulturkammer she belonged to the haunted of the NS regime. A relationship with the Jewish singer Kostja Konstantinow aggravated the situation and both emigrated to Paris in 1939. She had to leave her belongings in Germany.
In Paris she worked as a singer and she wrote few plays.

She got married again in 1955 and became countess Alexandra Woronzoff-Daschkoff.

There is an interesting report about Barbara Dju on the page of the "Staatlichen Mueen Berlin" by HS.