Josef Jarno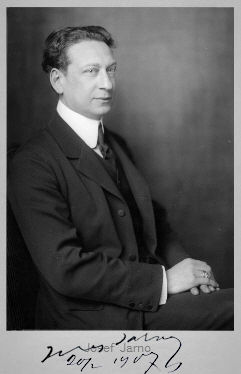 Foto: D'Ora Kallmus (1881-1963)
Mit freundlicher Genehmigung
Österreichische Nationalbibliothek Copyright

1866 - 1932
.
.
The actor and director Josef Jarno was primarily business at the theater. He only appeared rarely in front of the camera.

Josef Jarno made his stage debut as an actor in 1885 at the Kurtheater Bad Ischl where he returned time and again in the next years.
Soon followed other engagements at different theaters and in 1887 he was appointed to the manager of the Sommertheater Bad Aussee. Only two years later he took over the management of the traditional Theater in der Josefstadt.

Subsequently he became one of the most important theater makers of Austria who also performed modern authors on the stage.

Other theater stations were the Viennese Renaissancetheater, the Carltheater and the Fürst theater which he founded himself.

Josef Jarno made his film debut as an actor in 1914 and he took part in the movies "Der fremde Gast" (14) with Max Neufeld - in this movie he played a rich guest - and "Die Jüdin von Toledo" (19) with Franz Höbling and Ida Norden.

In addition the movie "Der lustige Witwer" (20) was filmed based on his play.

Josef Jarno was married with the actress Hansi Niese. Her brother was the composer Georg Jarno.