Muk de Jari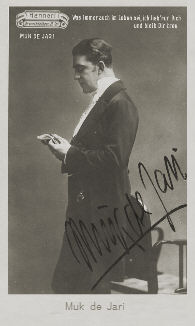 Foto: Ludwig Gutmann (1869-1943)

1886 - 1973
.
.
The actor Muk de Jary was a busy actor on stage who not only took part in theater plays but also appeared in musical performances.

He only acted in movies for a brief time, for the first time in "Der letzte Erbe von Lassa" (18) with Victor and Tilly Kutschera.

His last cinematical works came at the beginning of the 20s into being with "Töte sie!" (20) directed by Ernst Marischka who wrote film history in the 50s with his Sissi movies. To de Jary's film partners belonged Ernst Tautenhayn and Hubert Marischka.
Finally he appeared in "Dorala" (21), again with the protagnoists Ernst Tautenhayn and Hubert Marischka.