Julia Janssen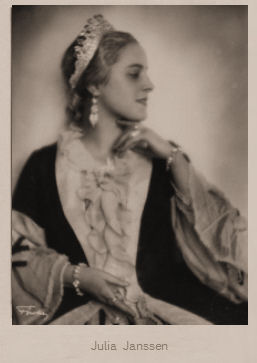 Foto: Ernst Förster (1879-1943)

1900 - 1982
.
.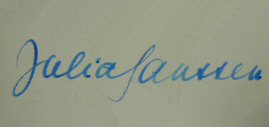 The actress Julia Janssen made her first stage experiences at theaters in Dortmund and Oberhausen after finishing an acting education.
Finally she got an engagement at the Burgtheater in Vienna in 1927 and managed her breakthrough there. She remained true to this theater for many years. Beside it she also got engagements at different theaters in big cities like Prague, Munich and Salzburg.

Besides her career at the theater she also took part in few movies. She made her screen debut with silent movie "Die Frau von gestern und morgen" (28) and in the sound film era of the 30s followed "Der Himmel auf Erden" (35), "Singende Jugend" (36) and "Burgtheater" (36).

Afterwards followed a break of twenty years, only from 1956 she appeared again in front of the camera, among others "Wilhelm Tell" (56) and "Katzenzungen" (67).

Besides her activity as an actress Julia Janssen was also busy as a acting teachter. To her most popular students belongs Waltraut Haas.