Polly Janisch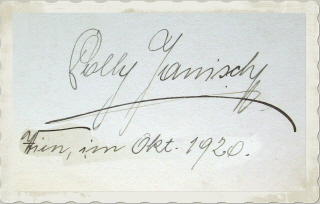 ? - ?
.
.
The actress Polly Janisch was only actie for a brief time during the silent movie era of the 10s.

She made her film debut in 1913 with "Treue Seelen" (13) with Max Neufeld in the leading role.
In the next year followed movies like "Die Hochzeit von Valeni" (14) playing the role of Sandra with Max Neufeld, "Das vierte Gebot" (14) at the side of Gisela Werbezirk and Hans Rhoden, "Hedi und Edi" with Josefine Joseffy and Hans Rhoden und as Anna Birkmeier "Der Pfarrer von Kirchfeld" (14) directed by Jakob and Luise Fleck with Max Neufeld, Ludwig Trautmann and Eugen Neufeld.

Afterwards she took part in few more movies. To these works belong "Mit Herz und Hand fürs Vaterland" (15) with Hubert Marischka, Liane Haid, Hermann Benke and Max Neufeld, "Auf der Höhe" (15) impersonating the role of Helene with Liane Haid, Wilhelm Klitsch, Hermann Benke and Hubert Marischka, "Das verhängnisvolle Rezept" (16) with Max Neufeld as well as "Die Tragödie auf Schloss Rottersheim" (16) at the side of Hermann Benke, Liane Haid, Cordy Millowitsch and Karl Baumgartner. These movies were directed by the duo Jakob and Luise Fleck.