Martin Jacob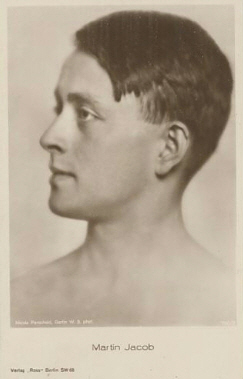 Foto: Nicola Perscheid (1864-1930)

1900 - 1970
.
.
The actor Martin Jacob was only sporadically active in the film business, his first role in front of the camera was Schlucker in "Ein Sommernachtstraum" (25) with Hans Albers, Charlotte Ander and Theodor Becker.

He continued his film career only in the sound film era of the 30s, among them "Die Schlacht von Bademünde" (31) with Max Adalbert, "Gassenhauer" (31) directed by Lupu Pick with Margarete Schön and Karl Hannemann as well as Friedrich Zelnik's "Spione im Savoy-Hotel" (32) with Alfred Abel and Leonard Steckel.

Afterwards followed few short movies like "Schuberts Lieder" (32) directed by Johannes Guter with Käthe Haack, "Petri heil" (33) with Fritz Odemar and Gerhard Dammann and "Dr. Bluff" (34) directed by Phil Jutzi with Werner Finck.