Niddy Impekoven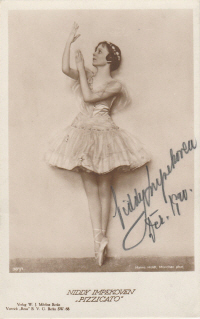 Foto: Hanns Holdt (1887-1944)

1904 - 2002
.
.
The dancer Niddy Impekoven was born as Luise Antonie Crescentia Impekoven in Berlin. Her father was the well-known actor Toni Impekoven.
She already got dancing lessons as a child in 1905 by Margarete Altmann and only one year later she performed at a public event for the first time. She later strenghtened her dancing abilities by Heinrich Kröller and in 1918 she appeared with her own choreography, created together with Kröller, in 1918 for the first time.

From now on and expecially in the 20s she became a popular expression dancer and she also animated with her gracious dancing performances many artists who immortalised her in their paintings and even as figurines. Probably the most popular figurine is her figur from the program "Der gefangene Vogel".

Her dancing performances did not only convince by her imaginative movements and costume like in "Der gefangene Vogel" but also often contain humorous moments, e.g. in the dance "Münchner Kaffeewärmer".

Finally Niddy Impekoven moved to Switzerland where she got married with the doctor Hans Killian in 1923. The marriage lasted six years.

As a dancer she pursued her dancing development and she managed the step from the childlike dancer to the adult woman. She extended her repertory by narrative components and she coquetted with the audience.

Thank to her huge popularity she was also engaged for few movies.
Her first movie was "Die Pritzelpuppe" (23),a short movie who demonstrated the development of one of her choreographies and therefore has a documental character.
Afterwards she also impersonated dancers in the movies "Armes kleines Mädchen" (24) at Fritz Kortner's side and "Wege zu Kraft und Schönheit" (25).

Niddy Impekoven went on world tours in 1928 and 1930 which led her to numerous countries in Europa, Asia and America. These tours were also very successful.
Her last appearance as a dancer came in 1934 into being, afterwards she retired from the public life. In 1955 she published the book "Memoiren eines Wunderkindes". She remained living in Switzerland till her death in 2002.