Dora Hrach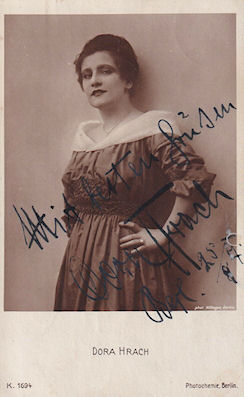 Foto: Wilhelm Willinger (1879-1943)

1889 - 1960
.
.
The actress Dora Hrach took part in some productions in the silent movie era, among them "In Zivil" (14) directed by Jacob Fleck, "Der Storch ist tot" (14) and "Trudes Geheimnis" (16) with Erwin Fichtner.

In the next years she continued her film career and she appeared in "Das Goldfischchen" (17), "Das Hochzeitsgeschenk" (17) with Rolf Brunner, "Der Kampf um die Ehe" (19) with Käthe Haack and Paul Bildt, Lupu Pick's "Der Seelenverkäufer" (19) with Bernd Aldor and Heinrich Peer, "Das Caviar-Mäuschen" (19) directed by Gerhard Dammann with Josefine Dora and "Wenn die Liebe nicht wär..." (20) at the side of Henry Bender and Paul Westermeier.

It followed a longer interruption before she acted again in front of the camera a last time. She played the role of Emilia in Richard Oswald's "Wien, du Stadt der Lieder" (30) which was her only sound film.