Georgia Holl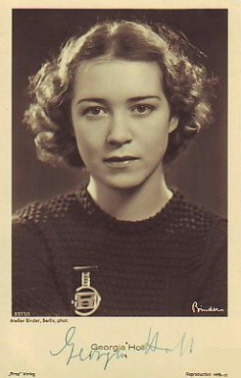 Foto: Alexander Binder (1888-1929)

1918 - ?
.
.
The actress Georgia Holl made her debut in front of the camera in 1934 with "Ihr grösster Erfolg".

She continued her film career - which was limited to the 30's - with productions like "Zirkus Saran" (35) at Leo Slezak's and Hans Moser's side, "Hans im Glück" (36), "Der Jäger von Fall" (36) with Paul Richter, "Die Erbschaft" with the legendary Karl Valentin and Liesl Karlstadt, "Nachtwache im Paradies" (37), "Die gute alte Zeit" (37) with a young Curd Jürgens, "Das grosse Los" (39) and "Grenzfeuer" (39).

Afterwards she retired from the film business.