Fritz Hirsch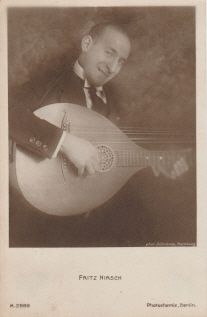 Foto: Rudolf Dührkopp (1848-1918)
1888 - 1942
.
.
The actor Fritz Hirsch entered the theater in 1908 where he had first apearances in Landsberg. It followed engagements in Stendal, Königsberg, Hamburg and Berlin.

During his time in Berlin he also took part in several movies like "Die Heimkehr des Odysseus" (22), "Der böse Geist Lumpaci Vagabundus" (22), "Die fünf Frankfurter" (22) and "Das Fräuleon von Kasse 12" (28).

Finally he went to Den Haag in 1928 where he founded the Fritz-Hirsch-operetta one year later.

With his return to Berlin 1932 he took over the management of the Schillertheater but his tenure was short-lived.
With the takeover of the power by the National Socialists he was removed from his position again because he was a Jew. He fled to the Netherlands but with the occupation by the Germans he was arrested there. He spent several months in the prison of Scheveningen and was released for a short time before he became arrested again. He was deported to the KZ Sachsenhausen where he arrived in November 1941.

Six months later he was transferred to the KZ Mauthausen where he died in June 1942 in the satellite camp Gusen after labour in a stone quarry. Both his sons and his brother did also not survive the Holocaust.