Alexander Herrnfeld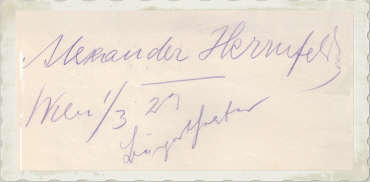 ? - ?
.
.
The actor Alexander Herrnfeld played in some of the early German silent movies.

His first appearance in front of the camera was for "Musikantenlene" (12). He played a theater agent at the side of Julius Brandt, Grete Diercks and Eugenie Bernay.

Afterwards he impersonated Pierre Carosse in "Des Schusters Tochter" (13) with Mimi Marlow and Ferdinand Stein and he played in the production "Der Herr ohne Wohnung" (15) with Gustav Waldau, Julius Brandt and Paul Morgan.

In his last movie "Einen Jux will er sich machen" (16) directed by Emil Leyde he played a detective. To his co-stars belonged Ida Russka, Paul Morgan, Viktoria Pohl-Meiser and Max Brod.