Elfriede Heisler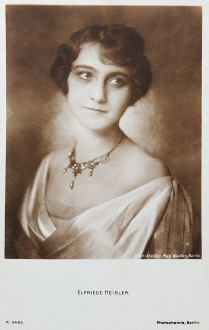 Foto: Mac Walten (1872-1936)
1885 - 1919
.
.
The actress Elfriede Heisler came from the theater when she also entered the film business in 1912.
To her first appearances in front of the camera belong "Fürstenliebe" (12) and "Der Dritte" (12), both directed by Emil Albes as well as "Die Tarantella" (12) with Hugo Flink.

In the next years came other movies into being like "Schwert und Herd" (16), "Die lachende Maske" (18) with Bruno Eichgrün and Rosa Valetti, "Ich habe Dich geliebt bis in den Tod" (18), "Frauchen in Nöten" (18) with Kurt Vespermann, "Das Glück im Rinnstein" (18), "Die Liebe fand den rechten Weg" (18), "Seltsame Seelen" (18) with Emil Hess and "Das Buch Esther" (19) with Michael Bohnen.

Her much demanding film career came to an abrupt end in 1919 when she committed suicide at the age of only 30 with Veronal.