Karl Hammes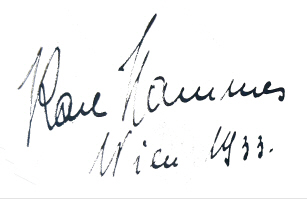 1896 - 1939
.
.
The well-known opera singer Karl Hammes finished the school and went to the army as a volunteer. There he became trained as a fighter pilot in the fighter group Richthofen. At the end of the war he was a major and decorated with the Iron Cross First Class.

After the war he chose a complete other direction for his professional life and he joined the academy of music in Cologne.
Subsequent to this education followed appearances as a singer at a opera in Berlin and in 1927 he experienced his first huge success with the play "Parsifal" at the Bayreuther Festspiele.

Karl Hammes became established as an opera singer in the next years he got regular engagements at the Festspiele in Salzburg and at the Viennese opera.

Thank to his popularity he also got offered two short appearances in movies, less as an actor playing a role but impersonating himself.
His first movie came in 1929 into being with "Spanisches Intermezzo" (29) - a short movie with the alluring dancer and actress La Jana. In 1935 followed the movie "Königswalzer" (35) directed by Herbert Maisch. To the actors belonged Paul Hörbiger, Carola Höhn, Willi Forst, Hans Leibelt, Theodor Danegger, Heli Finkenzeller, Oskar Sima and the then unknown Curd Jürgens with his movie debut. In this movie Hammes played a singer.

He joined the Berlin opera in 1935 and became the title "Kammersänger" at the same time.

With the outbrake of World War II he put his artistic career off and joined again the army as a fighter pilot. But only a few days after the outbreak of World War II Karl Hammes was shot down over Warsaw and a wonderful voice became silent for good.

In his private life Karl Hammes was a passionate sportsman. He was a member of a rowing club and as a golf player he was part of the German national team.