Anneliese Halbe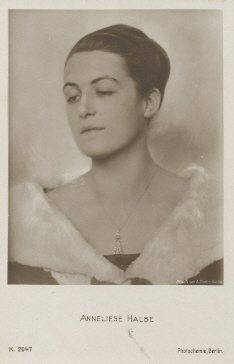 Foto: Alexander Binder (1888-1929)

1894 - 1986
.
.
The actress Anneliese Halbe was born as the daughter of the author Max Halbe (1865-1944).

When she appeared in front of the camera for the silent movie "Alma mater" (16) for the first time she was able to launch a short-time film career.

In the next years she took part in few more movies, among them playing Jejanowna in "Suchomlinow" (18) with Victor Janson and Wilhelm Diegelmann, Ewald André Dupont's "Mitternacht" (18) as stepdaughter Beatrice Trevor with Heinrich Peer and Reinhold Schünzel, "Sein Weib" (18) directed by Max Mack with Carl Beckersachs, as Berta Kraker in Paul Leni's "Prinz Kuckuck" (19) with Conrad Veidt and Olga Limburg, "Die Madonna mit den Lilien" (19) directed by Friedrich Zelnik with Ferdinand Bonn as well as "Opfer der Gesellschaft" (19) with Conrad Veidt and Kurt Brenkendorf.

Her last cinematical work came in 1921 into being with "Madeleine" (21) with Ria Jende, Eduard von Winterstein, Hermann Vallentin, Rosa Valetti and the then still unknown Hans Albers.