Mary Hagen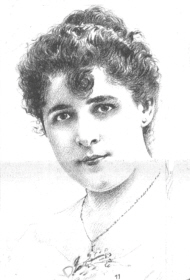 Foto: Jan Vilimek (1860-1938)
1876 - 1944
.
.
The actress and singer Mary Hagen began her artistic career at the end of the 19th century.
As a singer she appeared among others at the Wilhelm-Theater in Magdeburg, later followed appearances in other mid-size cities.
She soon became also successful as an operetta singer beside her stage roles and she was successful in this field from 1898 in Berlin and later in Vienna too.
To her most popular performances belong "Die Fledermaus", "Die Geisha" and "Der Opernball".

Thank to her popularity she also got few engagements in front of the camera. Her first movie was the Danish production "Den sorte drom" (11) directed by Urban Gad.
She played the role of baroness Leonie Korff in the movie "Zigeunerblut" (11) at the side of Asta Nielsen, Hugo Flink and Emil Albes. The director was again Urban Gad.

When she retired from public life she was active as a singing teacher.