Martha Hachmann-Zipser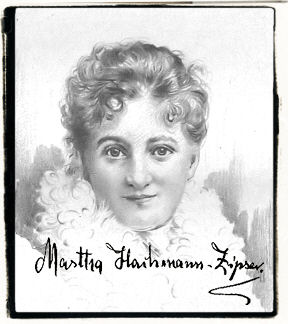 Bildnis: Jan Vilimek (1860-1938)

1864 - 1940
.
.
The actress Martha Hachmann-Zipser was genetically predisposed by her father who was also an actor.
Therefore she also chose a career at the theater and she made her stage debut in 1880 in Torgau. In the next years followed engagements at differend theaters in Germany before she was contracted by the Residenztheater in Berlin.

She appeared their for several years, afterwards followed appearances in Germany and Austria as well as in New York in 1891.

Martha Hachmann-Zipser remained active as a stage actress till to her death, lately she acted in Hamburg for several decades.

She only appeared seldom in front of the camera.
Her first movie came in 1921 into being with "Aus der Jugendzeit" (21) directed by Eva Christa.

Three years later she impersonated the role of Johanna Brendel in the production "Dunkle Gewalten" (24) with Marcella Halicz and Julius Kobler.